Israeli Minister of Diaspora Affairs and Combating Antisemitism Amichai Chikli met on Monday with a Hungarian delegation led by State Secretary for Relations with the Church and Ethnic Communities of Hungary Miklós Soltész. Chikli asked Soltész to help stop European support for anti-Israel Palestinian organizations.
Chikli asked the Hungarian government to help fight EU support for anti-Israel Palestinian organizations and thanked the Hungarian government for its unwavering support for the State of Israel. The meeting was attended by Rabbi Shlomo Köves, Chief Rabbi of the Association of Hungarian Jewish Communities (EMIH), who accompanied Soltész on his visit.
During the meeting, Chikli expressed his gratitude to the Hungarian government and the Jewish community for the establishment of the Machne Chabad refugee camp, which has helped more than 1,000 Ukrainian Jews displaced by the war.
The camp was established by EMIH and the Jewish Community of Ukraine with the support of the Government of Hungary.
The politicians discussed efforts to combat antisemitism in Hungary and Europe. Soltész briefed Chikli on the constitutional changes implemented in Hungary over the past decade to better tackle antisemitism, in cooperation with Jewish community organizations under the leadership of the Action and Protection League (APL).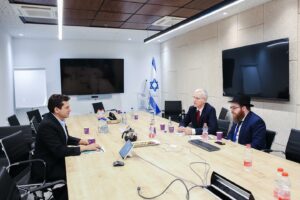 Politicians agreed that anti-Israelism has become a new form of antisemitism and requires special treatment at the international level.
Soltész pledged that the Hungarian government will continue to support Israel in all international forums and invited Chikli to visit Hungary.
Sixty-eight percent of online antisemitism comes from Palestinian or progressive pro-Palestinian circles, according to a new report on the state of antisemitism by the Ministry of Diaspora Affairs,  presented by Minister Amichai Chikli at last week's cabinet meeting. Chikli said
"the manifestations of antisemitism are changing and are increasingly focused on hatred of the Jewish state and denial of the Jewish state's right to exist".
"The State of Israel has a duty to take the lead in the fight against antisemitism and must act to ensure that the IHRA definition is disseminated in as many countries and institutions as possible."
– he added.