The comic book, made for the 100th anniversary of the birth of Hannah Szenes, has been unveiled, with the publishers hoping to get as many young Hungarians as possible to learn about the story of the Zionist hero. The volume is available for sale online at a great introductory price as well. 
The official unveiling of the book, of which 1,000 copies were printed in Hungarian and 500 in English, was held on Monday at the headquarters of the Hungarian Jewish Heritage Public Foundation (MAZSÖK) on Bajza Street in Budapest.
The editors of I Didn't Want to Die Young undertook to recall the life of Henes Szenes, who died a heroic death at the age of 23, in a lighter form with colorful pictures.
"Born in Budapest, Hanna Szenes was a purposeful, courageous and committed patriot who is considered one of the three greatest icons in Israel today. And she is also a Hungarian national hero.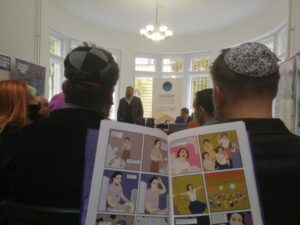 We want to be able to use this comic book to help reach out to as many young people as possible," said György Szabó, president of MAZSÖK and, with his organization, the main sponsor of the publication. 
According to him, the volume evokes a figure who holds "a very special place in the life of the Hungarian Jewish community" and communicates that not everyone knows all the details about this girl who died a martyr.
"Hannah Szenes wasn't just a paratrooper. Her original dream was to become an educator. Then she was a poet, a girl in love, and then fate eventually made her the national hero of two countries. She was a patriot who wanted to help Hungarian people of Jewish descent. "
—said György Szász, the president of the Ferenc Kemény International Foundation, which published the volume.
Szász, who edited the book himself, talked about their use of contemporary documents — photographs, articles, memoirs, and Szenes's poems and diary — for their joint research with Adam Markscheid, a student who also studied the history of philosophy in Israel and worked as a writer and graphic designer. 
The volume featuring Markscheid's pictures, which are not your typical illustrations, was also a bit of an experiment since we would not necessarily think of comics to portray the drama of a young person who dies so young and was unable to fulfill her goals nor to recall the traumas of World War II. But perhaps this tragic and destructive story may now reach a younger age group, the editor added.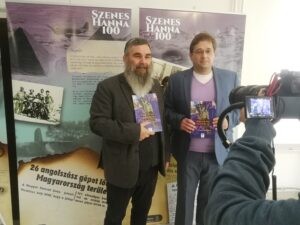 György Szabó and György Szász
The publication, which will be published on the occasion of the 100th anniversary of Hannah Szenes's birth, will be distributed to several Hungarian religious schools and foreign embassies, and will also be available for sale in Hungary.
— György Szabó said at the press conference. 
On the day of the presentation, we learned from one of the publisher's heads, Péter Gönczi, that the volume would be available for sale online at a 25% discount!
This past summer, Mazsök launched its commemoration of Hannah Szenes, during which several events, exhibitions, recitation competitions and concerts were organized nationwide. The edition of this volume fits into this as well. There are also plans for Hungarian students to travel to Israel and for Israeli students to travel to Hungary so that the younger generations can learn and experience what the message of Hannah Szenes's life is today. 
"When people play God, that's when the Holocaust happens"  – Neokohn